Did you know? Not a single fixed-cost Prolifogy project has ever gone over budget.
100% U.S. based development
Turnkey business solutions
Flexible pricing models
License vs. own option
Desktop, web, mobile, cloud
Expertise in user experience
Enterprise solutions
Back end development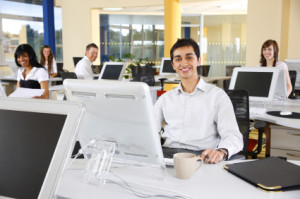 Each member of our software development team has been chosen for their impressive education, experience, and proven leadership abilities, and they are backed by our in-house staff of the industry's foremost international thought leaders in areas like machine learning, databases, vision, cloud computing, expert systems, and programming languages.
Quality customized software solutions don't only solve business problems; they also help increase efficiency, productivity, and profits. But that doesn't mean your business needs software expertise to work with us; our requirements specialists will learn your business and its unique strengths and characteristics, and they'll take the time to understand the problems you need us to solve. We partner with your stakeholders throughout the development process to craft a software solution that will make its mark on your respective field and create a buzz that even your most demanding customers will envy.
Anyone who has worked with software vendors knows that providers typically have a "comfort zone." The problem with that is that your needs will often not fall completely within the scope of the supplier's comfort zone. So, in addition to worrying about the project itself, project managers also lose sleep over whether they hired the right vendor. The good news is that we don't have a comfort zone here at Prolifogy. We don't limit ourselves to one particular technology or methodology because amazing applications often require many different tools to do the job correctly and efficiently.
To get started, contact us now via our web site or call us at (855) 776-5436.
---